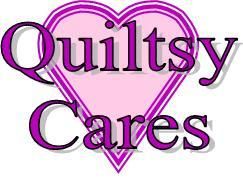 Team Quiltsy on Etsy are having a special March promotion, one quilt a day from it's members to charity. There have been some great quilts as charity information already this month. Do click on the Quilts Heart above to read all about these wonderful ladies and their charities of choice.
I will be participating on 17th and the 26th March. My charities are The Mater Hospital in Newcastle, NSW, Mental Health charity stall to raise funds for the well being of those with psychiatric disorders and are hospitalised. This is one area of health that is grossly neglected and seldom gets any funds from the fundraisers for hospitals.
The next one is close to my heart, Elim Kids, orphan in China with HIV, who are ostracised, unloved, untouched, until they are fortunate enough to be taken in by Elim, where they are surrounded with God's love from some amazing people who risk ostracism themselves in taking these beautiful children under their wing. They get educated, medicines to treat their condition, food, comfort, love and protection. They are always in need of funds so even if you can't quilt you can still help.
Regular updates are on Elim Facebook page