It's completed!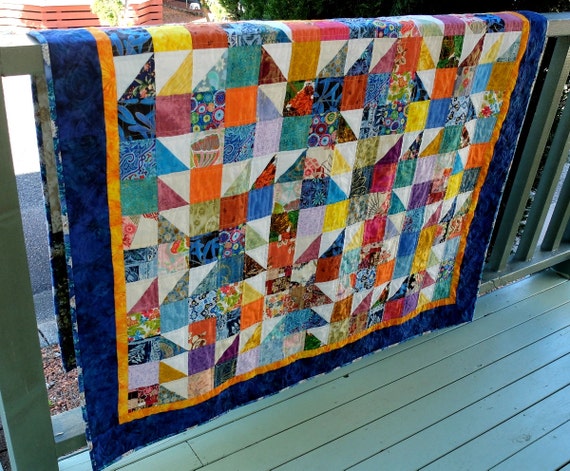 And I have finished it! I'm really happy with how it came out, it was such fun to do and is so bright and cheerful. You can see more photos of the quilt in my Etsy Shop,
Stephs Quilts
I ended up doing shadow straight line quilting around each small square and a loopy swirl on the blue border. I used a pounce pad and a stencil for the border quilting.
Now to have fun going through my stash and working out what to do next. I have 2 baby quilts on order, a chevron one in grey, aqua, yellow and white and a unisex baby quilt.
An Update on Scrappyness!
And here is the quilt top from the EQ7 design I did last week, scroll down to the last blog to see it. I had to make some more HSTs using up other scraps, but apart from the border every piece is from my scrap collection.
I think it came out pretty true to the design, I'm very happy with it.
Now I just have to decide on how I am going to quilt it, any suggestions?
Quilt top ready to be basted and quilted